#MillennialsOnABudget: 5 Baons You Can DIY At Home
So you've been trying to eat healthy but you feel like getting robbed every time you pay almost PHP 200 for a small bowl of leaves and some ingredients that you know you'll save money from if you just buy them. Or maybe you're just trying to save up on money in general so you go the tipid way and make your own baon for lunch. You know what that means… Meal preps!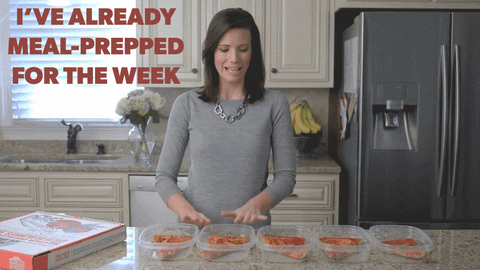 What if you don't have time? Or maybe you don't exactly know how to cook? Don't fret! There are tons of recipes that are easy peasy and won't cost you much time and money. Lucky for you, we've got you covered.
We've rounded up 5 easy dishes that will get you started on doing easy (and cheap!) lunches for your tipid but oh, so good baons!
Pomodoro
Don't let the name intimidate you! Just because it's Italian doesn't mean it's hard to do nor is it expensive. All you need? Cook your spaghetti and chop up a bunch of tomatoes, garlic, and basil. Sauteé the tomatoes, garlic, and basil in olive oil, add in the cooked pasta in the pan and voilá! You have your pomodoro pasta ready to go. Pro tip: I suggest sprinkling it with those fried dilis for that savory taste and an added crunch!
DIY Burrito
Burritos! Who ever said burritos are expensive to make?! You can buy your flour tortillas in the grocery and that whole pack will be enough to get you through 2 weeks worth of baon. It may be tedious to do, but it's hella good and hella cheap. Get the recipe here!
Homemade Buffalo wings
Craving for chicken wings but on a budget to buy from restaurants? Fry some chicken and create the sauce for coating.Half a cup of tomato catchup, a tablespoon or two of soy sauce (depends on your taste), a dash of vinegar, 2 tablespoons brown sugar, and a tablespoon of butter, simple as that. Dipping sauce? No need, this recipe is tasty as it is.
A Not Boring Salad
Come on, salad can be fun! Just grill some chicken with salt and pepper, add a hard boiled egg, add your nuts and cheese (I recommend feta as you won't need a dressing anymore), maybe add in tomatoes and cucumbers, and there you have it! It isn't as bad as it sounds, trust us. Plus, you can get 3 times the serving as you would with the a restaurant-bought salad price!
Chicken Teriyaki Rice Bowl
If you're really so pinoy that you need to have that rice and ulam combo then this rice bowl will be perfect! Creating the teriyaki sauce is simple and easy, plus you can substitute the broccoli with any of the (cheaper) vegetable options. 
See, eating good quality food for lunch doesn't have to put a dent to your wallet! It takes a little bit more effort but at least, you can say that you made it yourself, right? If you have any more budget-friendly baon ideas, share 'em with everyone in the comments section!