Miguel Lyrics that Totally Turn Us On!
While Miguel grew up in a conservative and religious home, his music is anything but. His beats are delectable and the lyrics are really raunchy stuff. We reco an MTRCB rating of R-18 on his tracks which are highly suggestive and explicit BUT we LOVE IT and we want MORE, MORE MORE!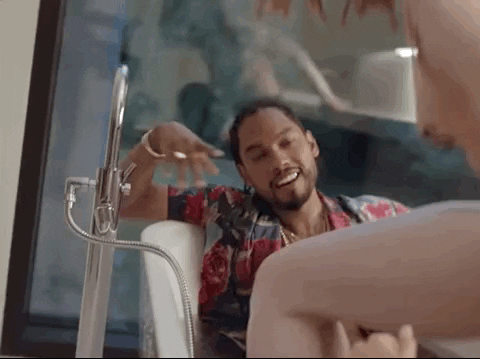 Miguel is uncensored and authentic ever since the start of his career. No fru-fru, beating around the bush for this artist. It's all about keeping it real and straight-forward. We list down his HOTTEST lyrics from the start of his career to date!
RELATED: 5 Reasons We Love Miguel
Coffee
Peach color, moon glistens, the plot thickens
As we laugh over shot guns and tongue kisses
Bubble bath, Truth or Dare, and Would You Rather
A cold flame, the thrill of no shame
Drugs, sex, and polaroids
Pick a star in the sky
What is: Describe the most intimate date ever. Miguel doesn't even need to elaborate to paint a picture!
Pussy Is Mine
You treat a nigga real good, and that's probably why I always cum…
So lie to me, lie to me, lie to me, so sweet…
'Cause I don't ever want to imagine
All the other niggas like me
Ever had a chance to get in your pants
A song produced early in Miguel's career, this is anything but subtle. Judging by the title, we're pretty sure you can tell how the song goes. Listen for a total sultry and sensory overload! Clingy and psycho boyfriends, this one's for you!
Come Thru and Chill
Get to takin' that off, takin' that off for me, yeah yeah
'Cause I got the plug, I made the call for green
I'm talkin' late-night for you
Let me lay a great time on you
Don't make me wait, no, don't you, no, no
Oh you know, just Miguel being Miguel. We stan this steamy track he made with J.Cole and Salaam Remi!
Sure Thing
You could be the lover I'll be the fighter babe
If I'm the blunt, you could be the lighter babe, fire it up!
Writer babe, you could be the quote
Running out of cheesy captions to use on your couple pics? Listen to Miguel's Sure thing for more ideas!
Adorn
These lips can't wait to taste your skin, baby, no, no
And these eyes, yeah, can't wait to see your grin, ooh ooh baby
Nazanin Mandi Pimentel is a lucky woman. Imagine coming home to Miguel ever night UGHHHH.
Quickie
I don't wanna be loved
I don't wanna be loved
I just wanna quickie
No bite marks, no scratches, and no hickeys
If you can get with that, mami come get with me
Another song from early on in Miguel's career, Quickie is one of those read between the lines song (we're obviously sarcastic). This has been a common thread in his first few songs, they're explicit, no shame, totes kinky. We approve!
Flesh
I'm a slave to your flesh
Woman put me right where I belong
In this age of feminism, Flesh is a major ode to the ladies who like taking the lead! We likey!
Coffee
Old souls we found a new religion
Now I'm swimming in that sin, baptism
Peach-colored skies
We feel the sunrise
Two lost angels discover salvation
Coffee is a major overload of kilig without being cliche. Super sexy, super smooth, super kinky from start to end!
Catch Miguel singing these lyrics LIVE over at The Island this October 9, 2019! It's his FIRST EVER concert in Manila so don't miss out! If you want a table for your friends or need more deets, contact the frontdesk at The Island: +639176898888.