15 Jul

Create your Home Bar with these Essentials Tools

In a time when being at home is literally a matter of life and death, upgrading your home is a must. Aside from the mandatory home offices or work desks we have now grown to love thanks to the WFH set-ups, it's equally important to level up your home for your lifestyle. Heading out for drinks is something sacred, it's there for you through good and bad. However, it's something we might not be able to do anytime soon. #sad #WeMissU
Allotting space for a bar cart or a home bar is a great way to rekindle your love for drinks and even spark a new love for mixing cocktails at home! A homemade margarita or sidecar is an incredibly rewarding way to end a day of working from home. Here's how you can cop the bar experience at home!
1 | The Perfect Cart or Bar Area
There's a wide range of bar carts out there and it's all a matter of preference. Keep your bar cart or your home bar away from the sun as the heat can damage your valuable liquors! It's also important to find one that's sturdy and can handle all the bottles of alcohol + bar tools you'll be placing on it. Very much like allocating a work space inside your home, a bar area helps you create an atmosphere of relaxation and /ESCAPE from the stress that is 2020! 
2 | Liquor
Speaking of liquor, you can have anything and as much as you want in your bar cart. Keep your mini speakeasy clean, roomy, and tasteful. At least, have one bottle of each of these must-haves: whiskey, gin, vodka, bourbon, scotch, tequila, rum, sweet and dry vermouth, and triple sec/Cointreau. If you're on a tight budget, stick to a drink that's flexible and works as a great canvas for any type of drink you desire. During these trying times, Hennessy VS is getting us through life. Cognac has multiple uses and it's great for refreshing sophisticated drinks like Japanese Cocktail, French 75, and the Champagne Bowler. Cognacs are also great for more casual drinks like high balls and the Hennessy Hot Cocoa, a famous winter drink as cognacs are known to be great at aiding in relieving headaches and the flu.
3 | Mixers And Garnishes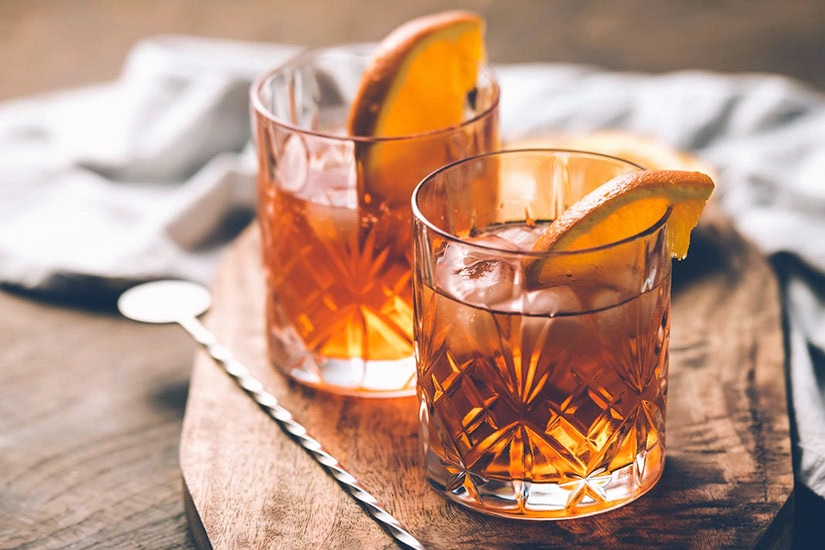 Naturally, you have to play with your liquor collection. Mixers and garnishes are a must to have in every home bar. You'll need tonic water, soda water/club soda/sparkling water, ginger ale, and bitters. These are the most basic mixers you'll want and are also ideal to mix up with a solid bottle of Hennessy VS. Don't forget to prepare the garnishes: olives, sugar cubes, lemons, limes, orange slices, and mint leaves. Dried fruit of your choice also adds wonders to the drink you plan to make. All of these can make your drinks even more IG-worthy! But of course, keep the perishable garnishes in the fridge for longer storage. Also, make sure you use fresh fruits to infuse with your drinks for maximum tastiness!
4 | Bar Gear
As any bartender would tell you, tools make wonders to a drink. The basic bar gear should consist of the following: ice bucket, shaker, jigger, muddler, strainer, whiskey spoon, whiskey stones, bottle opener, and corkscrew. It's best to have them all in one color in complementary colors so your bar still looks posh. A lot of online stores sell these bar sets in matching colors, we love the ones that come in Rose Gold! 
5 | Glassware
Since you have quite a liquor collection and a variety of concoctions you can make from them, you will also need the necessary glassware for each of them. You can choose from champagne flutes, white wine glasses, red wine glasses, martini glasses, short collins glasses, tall collins glasses. It all boils down to the drinks you love. Of course, if you have a bottle collection with a pretty impressive glass design, that's good too!
6 | Speakers
Strange as it might be, music makes all the difference as you dive into making your drinks at home. Having quality speakers in your bar cart or bar area is a MUST. It sets the vibe and completes the whole set-up. The Palace Manila has a ton of live streams that get the part going, with the hottest DJs spinning on deck FOR FREE! This ___date___, Martin Pulgar will be taking over the stage for ____show name___. Another amazing set filled with iconic music and trippy beats, powered by our friends over at Patron! See you there!