4 Beautiful Filipinas Open Up On Finding Their Flawless Fit
Girls have always been expected to be perfect in every way, from doing well in school to having clear skin. But BREAKING NEWS: There is no such thing as the perfect girl. In 2018, being flawlessly beautiful is a new way to think about being perfect or spotless.
"

"

Change only what you can't live with, but try to accept who you are, and say yes to what makes you unique. Your confidence will make you sexier than any beauty product or accessory you could possibly buy.

- Legendary Laura Mercier
When it comes to makeup and getting the right look, it's important to find a product that fits your lifestyle and skin color, and type perfectly. Laura Mercier has always said that people should try to get the "Flawless Face."
Their foundation products give full coverage and can brave the weather no matter how ghastly or sunny it is, without the added weight!
Laura Mercier says:
COPYRIGHT_ETP: Published on https://www.escapetothepalace.com/4-beautiful-filipinas-open-up-on-finding-their-flawless-fit/ by Emilia Styles on 2022-10-19T07:57:21.589Z
"

"

A Flawless Face isn't about looking perfect, it's about feeling flawless.
ESCAPE talked to four interesting Filipinas about how they found their perfect fit. This is what they said.
A 21-year-old a fresh grad, and ready to take on the world, Angel has been traveling and spending time with family. Angel jumps from school to the gym to family matters every day in order to have a well-balanced life.
She uses products that give her a wide range of looks. So she can enjoy life to the fullest, her go-to foundation needs to last all day. Angel is a simple girl who doesn't like to wear a lot of makeup.
She relies on her Laura Mercier Flawless Fusion Ultra-Longwear Foundation, Flawless Fusion Ultra-Longwear Concealer, and Candleglow Sheer Perfecting Powder No. 2.
Jo, a 24-year-old marketing expert at a real estate company, loves to travel and stay in shape. In her free time, she goes to pilates and cycling classes. She needs a base that can easily change as she goes from work to play every day.
As a young marketing professional, she finds it easy to spend every day in business meetings. She makes sure she has all the beauty products she needs to become a marketing figure.
Her must-haves are the Laura Mercier Foundation Primer in Radiance, the Flawless Fusion Ultra-long wear Foundation, the Flawless Fusion Ultra-Longwear Concealer, and the Candleglow Sheer Perfecting Powder in Sheer Perfect.
The long-lasting wear and maximum coverage of these Laura Mercier products give her the confidence she needs to lead in meetings or be the best cycler in her class!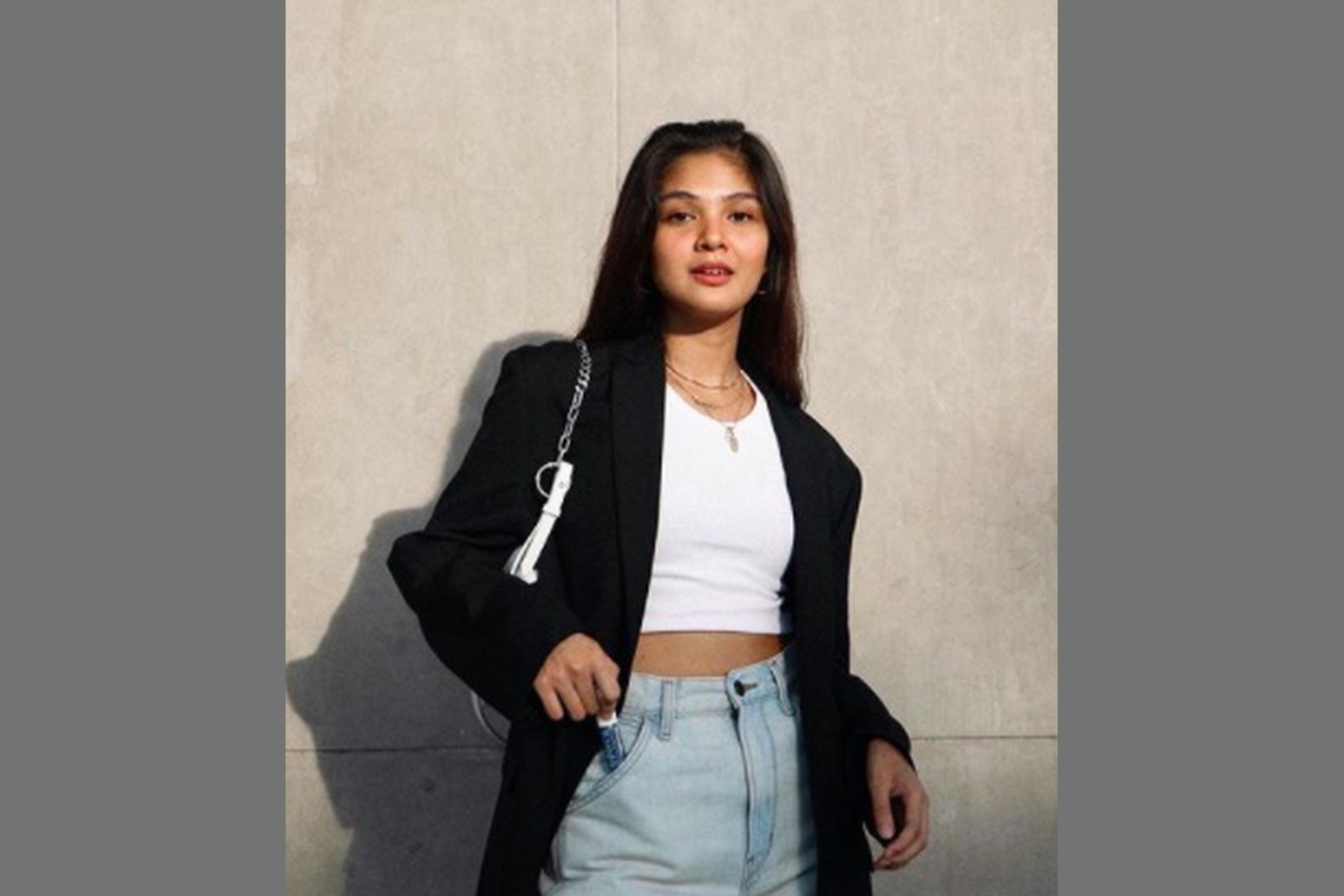 Angelique Manto wearing a professional attire on top of a white crop top while putting a lipstick on her pocket
The 21-year-old beauty always has a full day! As a courtside reporter and host, she always jumps from one camera to the next. Her day starts with a shoot for the TV show she's on. In the afternoon, she goes to a basketball game and stops by other events when she can.
To cap off her night, she'll either work on another vlog entry or enjoy a night out. Angelique always has a lot of her Silk Crème Moisturizing Photo Edition Foundation in Chai on hand because she is always on the go.
This high-pigment, the high-performance foundation gives Angelique a radiant, flawless canvas that can last for up to 12 hours. As someone who is always on the search for beauty products with all the coverage, Angelique keeps her look in check as she appears from one scene to another.
After working as Liz Uy's fashion stylist for a while, Andi stepped up her game and, at age 26, became a content creator. On slow days, Andi makes it to a point that she's still on the move, she does a lot of traveling in and out of the country.
With so much exposure on the road and the under the sun, Andi relies on her Laura Mercier Tinted Moisturizer Broad Spectrum SPF 20 Sunscreen and the Flawless Fusion Ultra-long wear Concealer at all times.
This moisturizer gives a sheer dewy finish that protects her skin from harmful UV rays while hydrating her skin at the same time! Being the fashion girl that she is, she always tops her look with the (ever-present in her bag) Laura Mercier Candleglow Sheer Perfecting Powder No. 2, Face Illuminator in Seduction, and the Matte Baked Radiance No. 4.
These girls are being exposed across different mediums and audiences. Presentation plays a vital role in the daily commitments they fulfill in their respective field. We sat down with the ladies and dug deep into what flawless means for them.
Angel: Being flawless is every girl's dream. I think everyone wants to reach the point where they can go out of the house even without makeup but we all know that's impossible. Thank god we have makeup! It makes us look and feel flawless even just for a few hours.
Jo: Being flawless is not really about ~physically~ having flaws but it's about fully accepting what you have, who you are, and being confident with yourself at the end of the day. We all have something to offer, and we will not be to realize those if we cannot create our own definition of being flawless.
Angelique: Being flawless is just being as bare as one can be, and truly accepting who you are. Being flawless is impossible but once you begin accepting everything you that are not and celebrating everything that you are. I think this is a good start to embracing your flawless self.
Andie: I think being flawless comes from your inner glow. The confidence you exude surmounts every flaw you think you have.
Angel: Flaws are there but you have to live with them. These are tiny imperfections. You have to be able to make your flaws work for you. Some people think that freckles are flaws because they're dots on your face, but I like them because it makes me unique, it makes me different. You have to find a way to make your flaws work for you.
Jo: Flaws are predisposed notions of what is collectively defined as perfect. But, I believe, flaws make me beautiful!
Angelique: Flaws define who you are. When I was younger, I was too insecure about my stretch marks, but I now call them my tiger marks. Flaws define and redefine who you are, and there's no better way to be uniquely me than have accept those flaws.
Andie: Flaws shouldn't be such a bad thing. These are things you just need to embrace and work around with. I think having flaws make me feel more human.
Angel: I believe that makeup is there not to cover your face but to enhance your features. My body clock is weird, and my eye bags are my biggest insecurity. I never leave the house without covering them up because, sometimes, I need to be my flawless self. Honestly, I always go for effortless enhancers for that subtle and sexy finish.
Jo: To be honest, I've been wearing makeup since high school. Come college, I felt like I couldn't leave the house without makeup. Not because I needed it but because it made me more confident.
I mean, don't you just love it when your skin looks extra fresh and flawless? I feel like without makeup, my face and my life look so dull. That's why I always opt for long-wear makeup.
If there's anything I will say to everyone starting on their makeup journey, it's how much importance they should put in finding the flawless fit for their skin. There are a lot of products out there but only a few will fit well.
Angelique: It is so important! Before I would let other people do my makeup but I insisted to learn how to do my own makeup because I could never be happy with it. Now that I know my face and skin better, I can play around with products that fit my skin type well.
So, when I finally learned how to do makeup on my own, I always try to achieve a flawless look and be photo-ready all the time!
Andie: I wear makeup when I have meetings, or when I'm traveling. Makeup helps a lot when you want to look fresh and flawless. With all the commitments that I have, I can't take so much with me so I only bring my essentials.
The goal is to always look polished and flawless and photo-ready since I'm always on Instagram.
Angel: In terms of skin, it's probably my freckles. If you look at my family, freckles run in our blood. If it's something not physical, I'm really a mix of everything because sometimes I can be a super gym-goer but the next day, I can be eating everything.
Jo: I'm the type of person who can easily adapt. You can put me in any situation and I will always find a way to get along and communicate with the people around me.
Angelique: What makes me unique is the way I could bend myself with the things that I do. If I have to be a serious sportscaster, I can easily be that. After that, I can be the fun-loving me after. I think flexibility is what makes me me.
Andie: The type of job I have is quite unique and I'm glad that I'm able to make a living out of being creative. It has been a long journey but being able to travel often while still doing my job is pretty awesome.
Angel: My mom and my sisters are all into skincare and I didn't get into it until a few weeks ago. A friend told me that you have to take care of your skin when you're young because when you're older, you're going to regret it. And that's true!
I started investing in it, moisturizers, toners, everything. I just started but I can already see the results. Also, I have sensitive skin so the quality of the products I use is important. It can't be too strong, and it has to be hypoallergenic.
Jo: I used to be oily but this year it changed, my skin became really dry so I'm focusing more on skincare. Moisturize, moisturize, moisturize!
Angelique: My skin's a combination, my T-zone is very oily but the rest is very dry. I don't have a skincare routine. But I just recently started, and I now moisturize and use masks.
Andie: I have a combination skin type. Sometimes it's oily, sometimes it's dry. My skin care routine is not super complicated, I just need tinted moisturizer and makeup remover.
Angel: An important part about getting through those days is feeling good about yourself. If you wake up and feel crappy, you have to put in the extra effort to feel good about yourself, or else you'll feel crappy all day. Once you wake up, make sure to turn the day around and make an effort to look good and feel good! Try to feel fresh and be ready to face the day.
Jo: I have me time. I have time alone, I love reflecting. Or I put myself in situations that I love to do like going to a coffee shop or working out. I feel like that automatically brightens up my day and that's therapy even if my day isn't that good.
Angelique: I find ways to not think about it. If I feel like when I'm not at my best, I try my best to make myself feel good in other aspects. I eat comfort food! I find ways to brighten up my mood somehow.
Andie: As cliché as it sounds, I think of things that make me happy or I look forward to things like traveling or as simple as getting something that's good to eat. It's mind over matter, I divert myself from thinking and look at the positive side.
Share:
Twitter

|
Facebook

|
Linkedin